Shopping for Shochu: A Visit to Umami Mart
Glistening gold and silver cocktail-ware shine through the store windows. With a focus on imported goods from Japan, Kayoko Akabori and Yoko Kumano carefully stock their inventory with their customers in mind. The co-founders of Umami Mart work with their shoppers to provide the products that they need. The specialty store arose out of a blog and grew into the Bay-area business it is today. The creative owners are always thinking ahead; they recently released their zine, Japanify All Day, and are looking to further expand their spirits stock. Their hospitality invites shoppers into their cozy space upon which customers can never leave empty-handed.
By Eric Nakamura (Editor-in-chief) and Natalie Mark
Photos and video by George Ko
Kayoko Akabori: My name is Kayoko Akabori.
Yoko Kumano: I am Yoko Kumano and we are owners of Umami Mart.
Giant Robot: Can you talk about how you guys started? I guess before the actual physical story?
YK: We started out as a blog in 2007. At the time I was living in Tokyo and Kayoko was in New York City, and we were working like 9 to 5 desk jobs. We were originally from the same hometown Cupertino, which is an hour south of San Francisco and so we've known each other for a while. When we were in these cities, we were eating a lot of exciting things and cooking things and making cocktails. One day, when we were back in Cupertino for Christmas, Koyoko said she wanted to start a blog. I was like, "Okay, yeah. I would love to contribute and post." That started up in February I think 2007, so it's been ten years. But five years after that, we both ended up moving back to California, and the blog was kind of in the state where it was healthy; there was readership, we were still posting and having fun with it, but we were like what should we do with the blog, what's the next step? So, we decided to attach an online store to it.
At the time, we had about ten writers contributing to the blog so we reached out to the writers to ask what they would want to see imported into the states from Japan. We pulled content from the contributors who were into cocktails and writing about food, and then us two who are into that kind of stuff. We decided on about ten products or so in the beginning to import from Japan and the front-runner was the barware. We had a writer on the blog who worked at PDT, which is a cocktail bar in New York City, so he kind of put into our ear that American bartenders were looking for Japanese barware. Our barware line up continues to be very strong because that was where we started. We have a lot of stainless steel barware; we have a lot of glassware. As we kind of grew into the brick and mortar we brought that over as well. In 2012, when we opened this location in Oakland, and at the time I think we had 50 SKUs (store keeping unit, product ID number for stores). Right now, it's embarrassing. We probably have 600 or something.
KA: We got into a pop up hood, which was an initiative with this property owner in downtown Oakland and the city, where they were giving out six months rent-free store front spaces. Sort of a try out. Yoko and I put our names in the hat and we were chosen, mostly because we already had an online presence. Before Yoko and I came upon pop up hood, we were just looking for showroom type spaces, maybe an office somewhere. We had sort of outgrown Yoko's apartment. There was bubble wrap everywhere, peanuts, the online store was actually getting to a point where we were selling a good amount of barware, which was really exciting. We started to casually look at places to rent but this opportunity popped up. It was three or four times bigger than what we wanted so we had to fill it, which is why we now have 600 SKUs instead of just six. We continue to still import our original ten products that we had on the blog, which is I think a testament to our business. We are very true to being a drink ware shop focusing on cocktails. In 2014, we opened up this back area, which is Japanese beers and sake and a little bit of wine and vermouths, syrups for cocktails. We have expanded into all sorts of inviting pleasures shop, cocktails, tea, coffee, bear, sake, but all of it comes back to Japan in some way. That's our philosophy and ethos of the company. I would say about 80% of what we sell is from Japan. Everything else is either buyer designer from Copenhagen or syrups and bitters made locally or books, which we also sell a good amount of cocktail books and cookbooks written in English.
I am really happy with the trajectory of Umami Mart and that we have always been true to where we started in 2007 as a blog and then as an online store 2010. As we continue to grow, it's really exciting to see how many opportunities we have to spread Japanese culture through drinks.
GR: Can you talk about your backgrounds in food and drinks maybe before the blog?
YK: I grew up in Cupertino and my mom and dad emigrated from Japan. I think growing up, I didn't think my mom or anybody was conscious of how food was the main way of preserving culture. I didn't go to Japanese school, I forgot my Japanese, but the food was always Japanese at home, and that was something that I think made a huge impact on me.
After college, I lived in Japan for five years. I worked in advertising, and when you work in advertising you have to go out and drink a lot and eat a lot after work. I think that was kind of my education into reconnecting with Japanese cuisine. Everything that is around drinking and eating in Tokyo, whether it's going out drinking with your colleagues, or going out grocery shopping, these are things that are so unique in Japan and I really fell in love with that. I liked working as a salary woman but I really loved that part of going out into the city and discovering all these new foods. So much so, after four years I quit my advertising job and then I worked in an Izakaya for six months in Japan and that was very jarring. It was challenging in a very different way than working very long hours and all that stuff, but that was a wonderful experience. I was just thrown into this random local Izakaya and just worked there for a few months. That was my background in food. lt's kind of interesting, because in the Izakaya and restaurants in Japan, you do everything. There is no dishwasher or busser or server. You are doing everything: you're mixing the drinks, you're serving, you're washing the rice. It was a great way to kind of get my feet wet. After that I moved back here, and after I moved back here, I really craved those foods that I was making in Japan. In California, we have a lot of Japanese ingredients, so I started blogging about recipes and foods that I missed from Japan.
KA: I grew up in a restaurant family. My father is a Sushi chef in Cupertino, California. He has had his restaurant since I was in high school. As a freshman all the way through senior year, I was working in restaurant every Saturday night. While my friends were out getting drunk and high, I had to work and my parents even pay me. That was my education in the restaurant world and I could never quite leave it.
After college, I moved to New York City to pursue a career in Museums. But after the glamour vanished, after six years, I came back here and decided to try my hand at bartending. I started serving at a restaurant in San Jose and they let me fiddle around behind the bar, then I became a back-bartender, and then finally I was bartending. Then from there I went to a restaurant here in Oakland, Camino, and I bartended for over two years while we were trying to open the Umami Mart brick and mortar. I continued to write and make cocktails.
It is definitely a passion of mine. I love to cook but I also love to drink. At Umami Mart we all love the idea of pairing drinks with food. We always wrote about that for our blog and that's what we continue to have conversations about here at the shop with our customers. We just started a sake club almost two years ago. We have about 160 members, and every month Yoko writes the tasting notes to go along with the two bottles of sake that everybody gets, and there is always some kind of food pairing involved. The eating and drinking is definitely very important. I grew up drinking with my parents. My dad loves sake, shochu. My mom was more into whiskey but she also drinks shochu. It's definitely in the blood.
GR: What is your favorite drink right now?
KA: Yoko and I were invited to Kyushu a month ago to all of the shochu distilleries, and I have really liked shochu. It's Japan's distilled spirit made with koji, water, yeast and some sort of a protein or starch. In Kyushu, their well-known shochu is made with sweet potato and it's very unctuous and robust and earthy a little bit mushroom-y and a little funky. Sometimes it could be stinky. You drink it on the rocks. There you are constantly drinking it with hot water. I really just fell in love with the culture of drinking a distilled alcohol along with the food, and just watering it down a little bit with hot water or with regular water or with oolong tea and enjoying it alongside you know food. There was all sorts of food, like entire dinner just with shochu. Here in the US you know you are drinking a cocktail in the beginning of the meal and it comes down to like wine or even sake is appropriate, but you don't really think of drinking the cocktail or spirit all the way through dinner. That's was sort a new way I think to enjoy a meal.
YK: I'm into Kimoto sake. Kimoto sakes are made in a more natural style. Sakes involve adding lactic acid and yeast, similar to beer, but instead of adding the liquid, like lactic acid or yeast in Kimoto sake, you invite it from the rafters of the brewery. Typically, it creates sturdy sake, that's kind of a wild and a little earthy. Those sturdier kind of wild gamier sake actually pair well with meats and also funkier, stinker foods. I tend to like things like lamb and baked oysters, for example. Kimoto Sakes are right now really doing it for me. Those are also really good warm and I like that. In California, we are approaching summer but it has been a long, cold winter and those Kimoto Sakes have been really delicious this winter.
GR: Is it also from South Japan?
YK: They actually make them everywhere. But it's a really old style and kind of tedious; it's a little predictable. A lot of breweries shied away from it for few decades but now some younger brewers are exploring, older more like natural ways of making sake. We see more Kimotos coming out which is pretty exciting.
GR: I was wondering if you guys could talk about the shop. There is a lifestyle brand that started off with drinks, it's holding a lifestyle but can you talk about how you pick items for the shop? I guess how they maybe relate to the first ten SKUs you had?
YK: Like, Kayoko said it has been a testament. We have been around for almost five years in Oakland, and although we expanded a lot, the growth still makes a lot sense. We choose a lot of our products based on our liking, but customers like bartenders come in and ask for specific things. Whether it's a very minor thing like, "Can you get a bar spoon that is three centimeters longer?" or "Can you find a mixing glass that's a little bit wider." Japanese bar tools are typically smaller, so we have adapted Japanese products to accommodate the Americans bar scene. Those small adjustments are huge for us. To convince a factory in Japan to make a new product has been really challenging, but that's something since 2010 when we started the online business, has been really very satisfying to develop those relationships. When we first started and we ordered a case of mixing glasses, these makers in Japan were like, "Who are these random people who are demanding two or three cases?" They didn't even want to allocate inventory to us because they didn't know who we were and it was very random. But now we go back every year to these factories and these makers. We discuss product development, they have ideas, we have ideas, customers have ideas, and that's kind of the best way and the most sure-fire way for us to come up with new products.
Just being in the store every day. Corresponding with customers is something that is really valuable for us. We can kind of deduce like, "Wouldn't it be really cool if we had a jigger that was super functional?" If you go to bars and you see the bartenders juggling all the jiggers, how can you solve their problems? We definitely have ideas from that and then other ways we choose.
Our designer is Danish and was studying in Tokyo while I was also there. We ended up working in a gallery together part time and that's how I met him. He was in Japan for a year and we became fast friends and he was also contributing to the blog very soon after that. He went back to Copenhagen pretty quickly after we met, but we kept up with that correspondence. He has always meshed Japanese and Danish design, and in 2010, when Kayoko and I decided to open this space. We had ideas for the store layout, but we enlisted Anders to design the store. We invited him from Copenhagen and he designed the store with a lot of the elements that are still here. The arrows were something that we all really like and remember from just New Years in Japan. My mom made those arrows and she resented me for a year while making them, so now we get arrows from Tokyo. A lot of the visual elements are thanks to Anders Arhoj and he has a studio called Studio Arhoj in Copenhagen. He makes a lot of ceramics, which we sell here too.
GR: Can you talk about the relationship between Danish design and Japanese design? It seems like there is some intersection that you found?
YK: The way in which both Danish and Japanese designers see space suggests they consider positive and negative space. They also share the use of natural material. Whether it's wood, lacquer, glaze, natural textures, rocks, straw, they all share common threads that both Danish and Japanese design use.
KA: I think clean lines too, maybe Danish more than Japanese. I am not design person so I can't say, but Anders has really fused and melded the Japanese design tradition of function. The design sensibilities of Danish designs, which is clean lines, but definitely like the natural wood and the white. I also like to think of Umami Mart as a cozy space; I think that is something that you find both in Japan and Scandinavia, sort of huddling into your own space, making it your own and making it cozy. I always like to think that we emanate that. Our customers really also feel that and like to come in, we have a lot of events here, or just like to come in and chat with us about what they are eating these days or to start a conversation. I hope we are considered as a cozy space.
GR: What direction would you like Umami Mart to take?
KA: It's been five years and Yoko and I have new ideas every day. A lot of them are bad but some of them do stick. Right now, we are trying to get an amendment to our liquor license that would allow us to use some Japanese whiskey and shochu. Hopefully that will happen by the end of this year. I don't know, we always like to think that we can open some kind of a tasting room or we could open a shop in LA. We came out with our first publication last year, which is a compilation of Yoko's recipes called Japanify, and it's like a sixty page zine of her doodles and photographs and recipes. We would like to come out with one every year and Giant Robot has influenced it as well.
Just trying to do all sorts of stuff. We started out as a blog and neither Yoko nor I come from retail and I think that that is our unique contribution to our space. But we really did start the shop because we needed to support the blog. Our main mission is education, resource. We never wanted to put ads on the blog, so that's why we started the online shop. We do want to keep growing the blog, putting more info up about how to cook, how to drink sake, or how to warm sake, things that I think that are getting a little bit traction here in the States or still very niche. But I think that we are unique because of that.
GR: Any last thoughts?
YK: I have a sake certification, like a sommelier license. Kayoko is going to be working on her shochu license too. Those are the things that continue the tradition of education in the blog. We keep expanding but we also want to deepen the knowledge for these niche subjects—
KA: —And for our customers too.
YK: That's always been something that drives us to get deeper and develop our growth, which is really interesting for us. This has always been our history, this organic growth where we just keep digging deeper, and that's always fun and fulfilling.
KA: I think the number one contribution from Umami Mart is our service. Things like being more knowledgeable about sake or shochu or cocktail, or talking to a lot of bartenders about what they want to see in their new product and making that happen, that's all a part of our service to our community. We take pride in what we do, how we do, how well we serve our customers and their needs.
Read more about Umami Mart on their blog, website, and Instagram.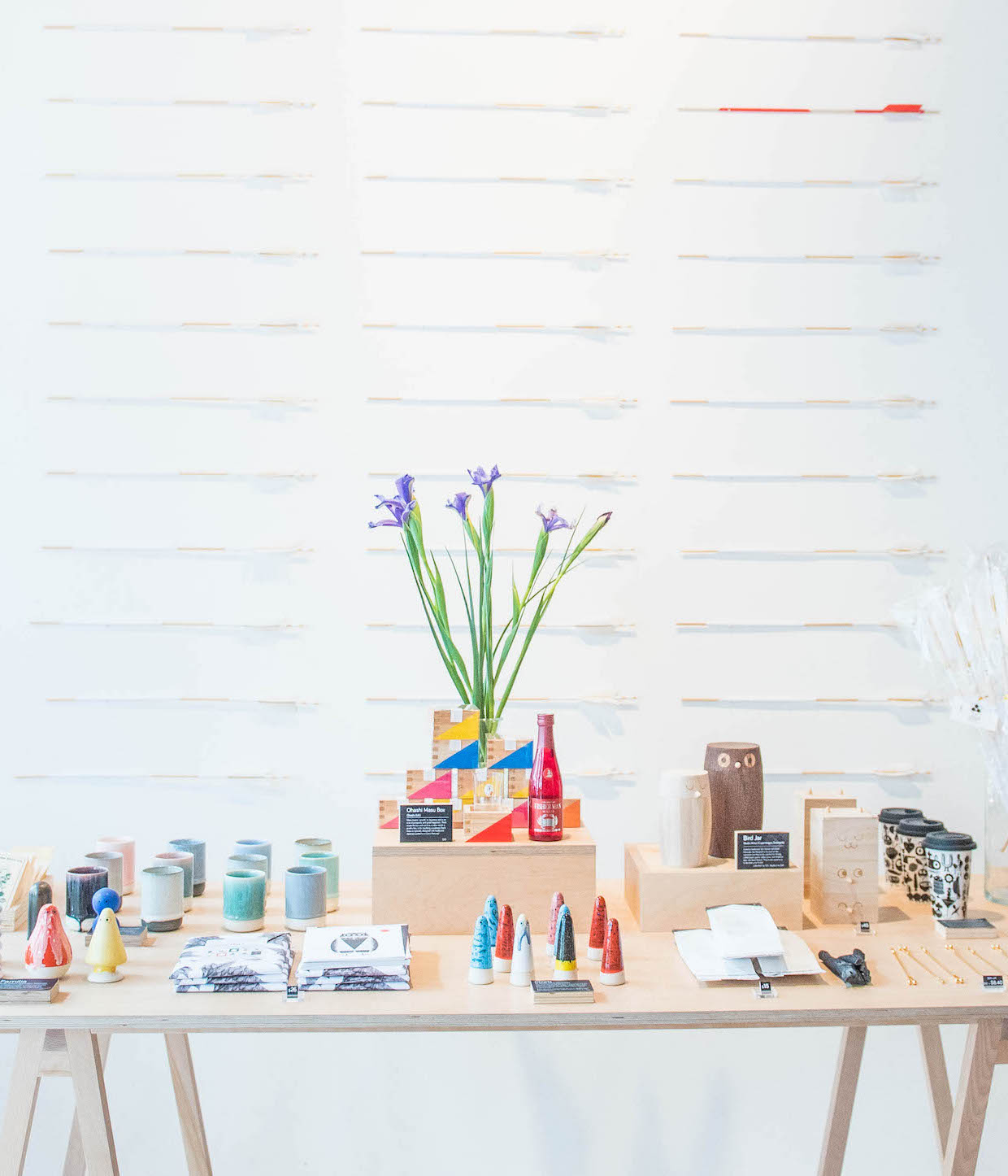 Umami Mart is located at 815 Broadway, Oakland, CA 94607.